WAR: 1775-1783
7. Living in War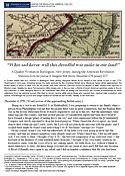 PDF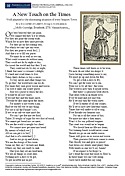 PDF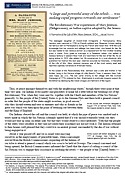 PDF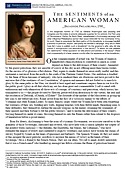 PDF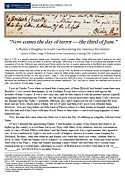 PDF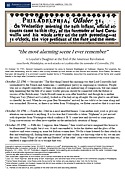 PDF
Civilians: non-military residents of a state or nation. Not soldiers or sailors, but ordinary citizens whose lives during wartime are inevitably influenced by the tumult around them. As the Revolutionary War spread from north to south and along the western frontier, it engulfed civilians' lives in ways unprecedented in colonial America. Here we read first-person accounts that reflect the Patriot, Loyalist, and Indian civilian experience. While all were written by women, they document the experiences of male relatives, colleagues, neighbors, and enemies. (We recommend that these accounts be distributed among student groups for presentation to the class, which will then identify patterns and illustrative anomalies.)
Discussion Questions
How would you characterize the various responses to the war illustrated in these pieces?
How did the civilians defend themselves? How did they shape the course and outcome of the war?
What role did Loyalists play?
How did the woman's perspective shape each account?
How did the war place women in new social roles?
How did Margaret Morris deal with the presence of Patriot, British, and Hessian combatants in her town? Why did she hide the Loyalist civilian? How did she use her journal for solace?
Summarize Eliza Wilkinson's experiences on the day of June 3, 1780. How did she deal with the arrival of Patriot, British, and Loyalist combatants at her plantation? How did she use her letters, written two years later, for solace and insight?
In Wilkinson's account, what roles did the slaves play?
What civilian hardships did Molly Gutridge describe in the poem A New Touch on the Times? To what factor did she ascribe "this cruel war"? How does she use repetition as a poetic device?
Why would Esther Reed have felt it wise to craft The Sentiments of an American Woman as she did? To whom did she address her "sentiments"? What opposition did she predict and address in the appeal?
Compare Anna Rawle's experience as a Philadelphia Loyalist with the Loyalist accounts in #8: Losing the War. How did the experiences of Loyalist and Patriot civilians differ, especially at the end of the war?
How did Mary Jemison's status as a white woman adopted by Indians influence her response to the Revolutionary War?
How did several of these women use their writing to maintain and urge hope in wartime? What did they hope for?
Compare the first-person accounts written by civilians and combatants during the Revolution with those recounted decades later. What similarities and differences do you find?
As a class, create a table to illustrate the range of civilian experiences in these selections.


| | | | | | |
| --- | --- | --- | --- | --- | --- |
| CIVILIAN | LOCATION | STATUS | CIVILIAN INVOLVEMENT | CONSEQUENCES for the civilian | ILLUSTRATIVE QUOTE |
| Margaret Morris | in Burlington, NJ | Quaker widow | | | |
| Molly Gutridge | | | | | "The world is now turn'd upside down." |
| Mary Jemison (Dehgewanus) | | | resident of Seneca village attacked by Continental Army | evacuation and resettlement | |
| Eliza Wilkinson | near Charleston, SC | | | | |
| Esther Reed | | First Lady (PA) | | | |
| Anna Rawle | | Loyalist's daughter | | | |




Add civilians you encountered in other sections of this Theme, including:


Sarah Osborne
(Section #6)
traveling with soldier-husband
Philip Freneau
(Section #6)
captive on a British prison ship
Joseph Reed
(Section #9)
governor (PA)
Francis Bailey
(Section #9)
"Peace! Peace! Peace!"
What patterns appear as you complete the table? Any surprises?
What civilian efforts were requested or encouraged in military broadsides (see #3: Leading the War) and news broadsides (see #5: Reporting the War)?
From this primary source collection, compile a list of possible civilian roles in the American Revolution, such as "sutler," privateer, camp follower, civilian spy or messenger, pacifist activist, official printer, state legislator, and diplomat. Find first-person accounts of active civilian involvement in this primary source collection and other resources.
What general conclusions can you derive from the civilian experiences recounted in this primary source collection? How do they compare with the civilian experience in war today?
Framing Questions
How did Patriot leadership—military, diplomatic, and governmental—promote and hinder the war effort?
How did the war affect Patriots, Loyalists, Indians, African Americans, and women? How were power relationships changed?
How were decisions by Britain and France critical to the outcome of the war?
Was victory the last achievement of the thirteen colonies or the first achievement of the new nation?
Printing
Margaret Morris
Molly Gutridge
Mary Jemison (Dehgewanus)
Esther Reed
Eliza Wilkinson
Anna Rawle
TOTAL

9 pp. journal
1 pp. poem
8 pp. narrative
3 pp. appeal
10 pp. letters
3 pp. journal
34 pp.
Supplemental Sites
Revolutionary War pensions enacted by Congress, 1776-1832
, overview (VAGenSearch)
Pension applications of the Rankin brothers
, New York (NYGenWeb)
Pension applications, veterans of Wilkes County, NC
(USGenWeb)
[An Internet search on "revolution pension 1832" will compile numerous pension applications.]
Memoirs of Revolutionary War soldiers and sailors, excerpts in
History Matters
(George Mason University and the City University of New York)
From Revolution to Reconstruction
(University of Groningen)
Internet Archive
, including
Diary of Joseph Plumb Martin
, Revolutionary War soldier, selections (Independence Hall Assn.)
Documenting the American South
: Resources on the Revolutionary soldier's experience (University of North Carolina at Chapel Hill Library)
Boyrereau Brinch
, overview in
Seven Days
(newspaper), Burlington, Vermont, 2005
Blacks in the Revolutionary War, in
Africans in America
(PBS/WGBH)
Philip Freneau
, overview (Cengage Learning)
Philip Freneau,
Some Account of the Capture of the Ship Aurora
(Internet Archive)
"
Was the American Revolution Inevitable?
," not-to-miss teachable essay by Prof. Francis D. Cogliano, University of Edinburgh (BBC)
Teaching the Revolution
, valuable overview essay by Prof. Carol Berkin, Baruch College (CUNY)
General Online Resources
---
1
George Middlekauff,
The Glorious Cause: The American Revolution
,
1763-1789
(Oxford University Press, 1982), p. 539.
Images:
–
Representation du feu terrible à Nouvelle Yorck
[
Depiction of the terrible fire in New York
(19 Sept. 1776)], hand-colored etching, Paris, 1778? (detail). Courtesy of the Library of Congress, Prints & Photographs Division, LC-USZC4-1262.
–
Reddition de l'Armée angloises commandée par Mylord Comte de Cornwallis
. . . [
Surrender of the English army . . .
], hand-colored engraving, Paris, 1781 (detail). Courtesy of the Library of Congress, Geography & Map Division, G3884.Y6S3 1781 .M6 Vault.
– Illustration in
A New Touch on the Times
, poem by Molly Gutridge, broadside, Massachusetts, 1779. Reproduced by permission of the New-York Historical Society.
– [Esther De Berdt Reed],
The Sentiments of an American Woman
, broadside appeal, Philadelphia, 1780, p. 1 (detail). Courtesy of the Library of Congress, Printed Ephemera Division, Portfolio 146, Folder 3.
Banner image: John Trumbull,
Surrender of Lord Cornwallis
, oil on canvas, 1820 (detail). Courtesy of the U.S. Capitol, Office of the Architect of the Capitol.
*PDF file - You will need software on your computer that allows you to read and print Portable Document Format (PDF) files, such as Adobe Acrobat Reader. If you do not have this software, you may
download it FREE
from Adobe's Web site.