Collection of primary resources compatible with the Common Core State Standards
—historical documents, literary texts, and works of art—
thematically organized with notes and discussion questions.

Made possible by a grant from the National Endowment for the Humanities and with the generous support of Barbara Asch and Jonathan Weiss
in honor of Burton J. Weiss, Jon's father.

BECOMING MODERN presents an expansive collection of primary sources designed to enhance classroom study of the 1920s—a brief but defining period in American history, perhaps the first that seems immediately recognizable to us in the 21st century.
Organized in five themes, each with six to eight sections, BECOMING MODERN includes a multiplicity of genres to represent the broad expansion of media in the Twenties. Films, newsreels, animated cartoons, comic strips, radio broadcasts, and sound recordings are offered in addition to informational texts, fiction selections, visual art, photographs, and music selections. Nine collections of political cartoons and twenty-one collections of contemporary commentary provide unique overviews of the decade's most debated issues.
Headnotes and discussion questions guide study and analysis of the resources, reflecting Common Core Curriculum Standards for reading and writing. Individual texts are amply annotated to facilitate student understanding and inquiry.
THE AGE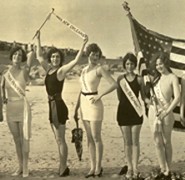 Framing Questions
How are the Twenties immediately familiar to 21st-century observers? In what ways does the decade seem remote and old-fashioned?
Identify and explain four characteristics of the Twenties that most differentiate the decade from the 1910s and the 1930s.
What are benefits and downsides of snapshot views of a historical period?
What research would you conduct to test a hypothesis about the 1920s gained from these snapshot views? more»
MODERNITY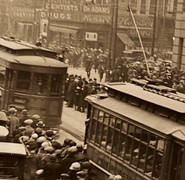 Framing Questions
How was modernity defined in the Twenties? What did "becoming modern" mean to the nation as a whole? to people in their personal lives?
What aspects of modernity were welcomed, resisted, or unrecognized in the Twenties? Why?
How were the social and political divisions of the period reflected in the debates over modernity?
In what ways is the decade's experience with modernity familiar and resonant today? more»
MACHINE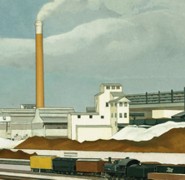 Framing Questions
How did "machine age" innovations change American life in the Twenties?
How did fans and critics of the changes, including artists, express their views?
What longterm effects on American society did they predict from the innovations? To what extent were they accurate?
How does their commentary resemble 21st-century discussion about technological innovation and social change, e.g., the Internet, social networking, robotics, nanotechnology, informatics, and more? more»
PROSPERITY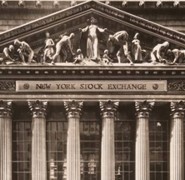 Framing Questions
What factors nurtured or weakened the unprecedented prosperity of the 1920s?
How did "prosperity" become a hallmark of national pride? How was the word adapted for differing political and psychological aspirations of the nation?
What role did "workingmen" and labor unions play in the economic panorama of the period?
Compare the Twenties' boom-and-bust with similar economic cycles before and after the decade. more»
DIVISIONS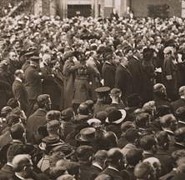 Framing Questions
What factors precipitated and fueled the social divisions of the 1920s?
How did each division reflect postwar adjustments and the "modern age"?
What issues overlapped multiple social divisions of the period?
How had each issue evolved by 1930 as the nation entered the Great Depression? more»
---
Images:

BANNER IMAGE. Florine Stettheimer, The Cathedrals of Broadway, oil on canvas, 1929 (detail). Metropolitan Museum of Art, New York, NY. Gift of Ettie Stettheimer, 1953. 53.24.3. Image: Art Resource, NY. Reproduced by permission of the Metropolitan Museum of Art.

THE AGE. Galveston, Texas, bathing revue, ca. 1926, panoramic photograph by Cecil Thomson Studios, ca. 1926 (detail). Courtesy of the Library of Congress, Prints & Photographs Division, Call No. PAN SUBJECT-Bathing beauties no. 26.

MODERNITY. Traffic in downtown Detroit, corner of Michigan and Griswold, photograph, ca. 1920 (detail). Detroit Public Library, Burton Historical Collection, DPA4395. Permission request in process.

MACHINE. Charles Sheeler, American Landscape, oil on canvas, 1930 (detail). Museum of Modern Art, New York, NY. Gift of Abby Aldrich Rockefeller, 166.1934. Reproduced by permission of the Museum of Modern Art.

PROSPERITY. New York Stock Exchange, photograph, ca. 1925 (detail). Museum of the City of New York, X2010.11.404. Permission request in process.

DIVISIONS. Thousands gather in Madison Square Garden, New York City, to hear radio broadcast of President Harding's speech dedicating the Tomb of the Unknown Soldier, Arlington Cemetery, Washington, DC, November 11, 1921, photograph by Underwood & Underwood, November 11, 1921 (detail). Museum of the City of New York, X2010.11.8827. Permission request in process.