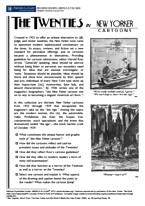 THE AGE
4. New Yorker Cartoons
To offer a unique perspective on the Twenties, six collections of primary materials are presented in Theme I, each from a single source—newsreels, cartoons, political cartoons, animated cartoons, subway posters, and a 1931 retrospective. We encourage you to mix and match materials from two or more collections as a device for studying the period; a collection discussion guide is offered to stimulate study and analysis. Let's proceed to this section's collection—cartoons from the weekly magazine, The New Yorker.
Created in 1925 to offer an urbane alternative to Life, Judge, and similar weeklies, the New Yorker soon came to epitomize modern sophisticated commentary on the times. Its essays, reviews, and fiction set a new standard for periodical offerings, and its cartoons became a phenomenon in themselves. Providing guidelines for cartoon submissions, editor Harold Ross wrote: "Generally speaking, ideas should be satirical without being bitter or personal; our secondary need being for ideas that are unusual, extravagant, or 'nutty.' Situations should be plausible. Ideas should be literal and show how, unconsciously by their speech and acts, individuals of every New York type show up their hypocrisies [sic], insincerities, false fads, and absurd characteristics."1 By 1928, writes one of the magazine's biographers, "the New Yorker cartoon was on its way to becoming a singular American art form."2
In this collection are thirteen New Yorker cartoons from 1925 through 1929 that encapsulate the magazine's take on "the Age." Among the topics are the modern woman, the city, the automobile, radio, Prohibition, the Klan, the Scopes trial, consumerism, stock speculation, and the event that dramatically ended "the age"—the stock market crash of October 1929. What constitutes the unique humor of "the New Yorker cartoon"? How did it offer a form of witty self-examination to modern readers? (9 pp.)
Discussion Questions
To begin, study your response to the cartoons. Select one that you found funny and/or wittily provocative. Explain its point. What aspects of the drawing and caption funneled the cartoon's point to you?
What makes the cartoon funny? How is the humor delivered by the graphic immediacy of a captioned line drawing?
Select a cartoon that did not elicit an immediate response of humor and understanding. Why was this cartoon less effective for you?
Overall, characterize the unique humor of "the New Yorker cartoon." How did the cartoons reflect and satirize prevalent issues and attitudes of the period?
How did they reveal, in editor Ross's words, the "hypocricies, insincerities, false fads, and absurd characteristics" of urbane New Yorkers (and, by reflection, of the decade)?
How did they offer to modern readers a form of witty self-examination?
Compare early and current New Yorker cartoons (see supplemental sites). What has "the New Yorker cartoon" retained in style, tone, wit, and pithiness? How did it become a "singular American art form"?
Combine the New Yorker cartoons with other single-source collections in this Theme, e.g., with political cartoons (Chicago Tribune) or with another humor source (Felix the Cat animated cartoons). What unique insights can be gained by studying single-source collections from a period? What limits do they present? [See collection discussion guide for THE AGE.]
Framing Questions
How are the Twenties immediately familiar to 21st-century observers? In what ways does the decade seem remote and old-fashioned?
Identify and explain four characteristics of the Twenties that most differentiate the decade from the 1910s and the 1930s.
What are benefits and downsides of snapshot views of a historical period?
What research would you conduct to test a hypothesis about the 1920s gained from these snapshot views?
Printing
New Yorker cartoons

9 pp.

Supplemental Sites
---
1
Ben Yagoda,
About Town:
The New Yorker
and the World It Made
(Da Capo Press, 2000), p. 69.
2
Ibid., p. 65.
Images: cartoons reproduced by permission of the
New Yorker
.
– Nate Collier, "Something New on the Hip," publ. March 14, 1925.
– Frank Hanely, "The Last Ku Kluxer," publ. March 28, 1925.
– Al Frueh, "700,000 Years of Progress," publ. July 25, 1925.
– Barbara Shermund, "We're really awfully cynical," publ. Aug. 27, 1927.
– I. Klein, "You poor fellow!", publ. Dec. 14, 1929.
*PDF file - You will need software on your computer that allows you to read and print Portable Document Format (PDF) files, such as Adobe Acrobat Reader. If you do not have this software, you may
download it FREE
from Adobe's Web site.