THE AGE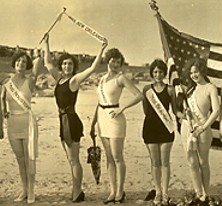 To offer a unique perspective on the Twenties, six collections of primary materials are presented in Theme I, each from a single source—newsreels, cartoons, political cartoons, animated cartoons, subway posters, and a 1931 retrospective. We encourage you to mix and match materials from two or more collections to gain insights that such snapshot overviews offer. A collection discussion guide is offered to stimulate study and analysis. Preceding the collections, in Section One, we sample Twenties commentary as people tried to define their times: What is this new age we live in? How do we feel about it? Where is it taking us?
Framing Questions
How are the Twenties immediately familiar to 21st-century observers? In what ways does the decade seem remote and old-fashioned?
Identify and explain four characteristics of the Twenties that most differentiate the decade from the 1910s and the 1930s.
What are benefits and downsides of snapshot views of a historical period?
What research would you conduct to test a hypothesis about the 1920s gained from these snapshot views?
Sections in THE AGE
Each section presents primary resources, introductory notes, classroom discussion questions, and supplemental links.
---
Image: Galveston, Texas, bathing revue, ca. 1926, panoramic photograph by Cecil Thomson Studios, ca. 1926 (detail). Courtesy of the Library of Congress, Prints & Photographs Division, Call No. PAN SUBJECT-Bathing beauties no. 26.