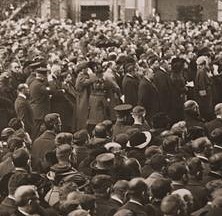 Whether tolerance of others' views was a virtue or weakness became an enflaming issue in the 1920s, as social divisions erupted in the postwar years torn by widespread anxiety and distrust. "Tolerance is laziness dressed in Sunday clothes," wrote one woman responding to a magazine inquiry. "It takes possession of a person and he goes through life excusing all the wrongs he is too indolent to correct."1 Others feared the excess of partisan zeal and its threat of unraveling the shared ideals that bind a nation. "Real Americanism is not holding this or that political opinion," stressed one observer. "It is a certain spirit of fair play, and a respect for individual liberty as well as for law. Unfortunately, we are now playing the game of who will be able to hit hardest to make his personal prejudice prevail."2 In this theme we examine the divisiveness—the race to make one's "personal prejudice prevail"—that swelled in America of the Twenties.
Sections in DIVISIONS
Each section presents primary resources, introductory notes, classroom discussion questions, and supplemental links.
---
1
Editors of the
Forum
, "What is Tolerance?"
The Forum
, May 1927; statement of Mrs. H. J. Bryson, Raleigh, North Carolina, excerpt.
2
Katharine Fullerton Gerould, "The Land of the Free,"
Harper's Magazine
, January 1923.
Image: Thousands gather in Madison Square Garden, New York City, to hear radio broadcast of President Harding's speech dedicating the Tomb of the Unknown Soldier, Arlington Cemetery, Washington, DC, November 11, 1921, photograph by Underwood & Underwood, November 11, 1921 (detail). Museum of the City of New York, X2010.11.8827. Reproduced by permission.