MODERNITY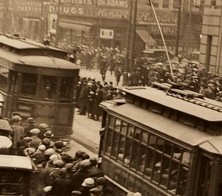 Modern. A word for all users—flexible in any context, malleable to a fault, willing to champion the meaning of the moment. Announcing winners of a contest in 1930 to define the elusive concept, the editors of the Forum confessed that "with so many meanings, dependent upon the whim of the user, there is some question as to whether modern really means anything anymore." With this quandary in mind, let us set out to experience what "modern" meant in the United States during the tumultuous postwar period we call the "Roaring Twenties."
Framing Questions
How was modernity defined in the Twenties? What did "becoming modern" mean to the nation as a whole? to people in their personal lives?
What aspects of modernity were welcomed, resisted, or unrecognized in the Twenties? Why?
How were the social and political divisions of the period reflected in the debates over modernity?
In what ways is the decade's experience with modernity familiar and resonant today?
Sections in MODERNITY
Each section presents primary resources, introductory notes, classroom discussion questions, and supplemental links.
---
Image: Traffic in downtown Detroit, corner of Michigan and Griswold, photograph, ca. 1920 (detail). Detroit Public Library, Burton Historical Collection, DPA4395. Reproduced by permission.