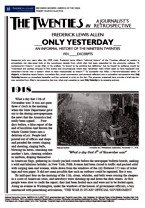 THE AGE
2. Only Yesterday Year by Year
To offer a unique perspective on the Twenties, six collections of primary materials are presented in Theme I, each from a single source—newsreels, cartoons, political cartoons, animated cartoons, subway posters, and a 1931 retrospective. We encourage you to mix and match materials from two or more collections as a device for studying the period; a collection discussion guide is offered to stimulate study and analysis. Let's proceed to this section's collection—excerpts from the most acclaimed popular history of the decade, Only Yesterday, published in 1931 by Frederick Lewis Allen, a young journalist and editor of Harper's.
Appearing only two years after the 1929 crash, Allen's "informal history" offered its readers a sympathetic yet clear-eyed look at the tumultuous decade from which they had been catapulted by the economic collapse. "A contemporary history," wrote Allen in his preface, "is bound to be anything but definitive," but he hoped its audience would be "interested and perhaps amused to find events and circumstances which they remember well—which seem to have happened Only Yesterday—woven into a pattern which at least masquerades as history."1 So successful was Allen in blending recent history, journalistic flair, social commentary, and personal reflection into a compelling retrospective that Only Yesterday became an immediate bestseller and has remained in print to this day. In the 1950s esteemed historian William Leuchtenburg praised it as "a social history written in such a lively style that academicians often underrate its soundness."2 And in 2007 Jonathan Yardley, book critic for the Washington Post, claimed that "it is nothing less than extraordinary for a work of popular history, written in the heat of the moment, to have faded so little in more than seventy years."3 With these endorsements in mind, proceed to these excerpts that provide a year-by-year overview of what remains, to quote Allen, "a distinct era in American history." (10 pp.)
Discussion Questions
What was the nation's situation in 1931 when Allen published Only Yesterday? How "over" were the Twenties?
How did these selections from Only Yesterday confirm or modify your impressions of the 1920s?
What are the strengths and weaknesses of a retrospective like Only Yesterday, i.e., a review of an event or era written soon after its occurrence?
How did Allen define the 1920s as "a distinct era in American history"? How might modern historians agree and disagree with his assessment? with his selection of the factors that made the 1920s "distinct"?
To what extent would modern historians agree with these statements by Allen?


- "The nation was spiritually tired. . . . There might be no such word in the dictionary as normalcy, but normalcy was what they [Americans] wanted."
- "Under the beneficent influence of Coolidge Prosperity, business had become almost the national religion of America."
- "The Big Bull Market had been more than the climax of a business cycle; it had been the climax of a cycle in American mass thinking and mass emotion."

Consider Allen's narrative voice in Only Yesterday, which was written, as historian William Leuchtenburg characterized it, "in such a lively style that academicians often underrate its soundness." Analyze how he interwove witty and poignant commentary, conversational and reportorial style, etc., to achieve the definitive voice of Only Yesterday.
Consider reading Only Yesterday in its entirety and creating your own excerpt collection by topic, theme, or chronology. What can be learned by excerpting a history or retrospective?
Compare Only Yesterday with Allen's similar retrospective Since Yesterday: The 1930s in America, published in 1939. How do the works reflect the differences in the times, in Allen's age and perspective, in the relevance of "informal history," and in the situations of America and Americans in 1931 and 1939?
Combine the excerpts from Only Yesterday with other single-source collections in this Theme, e.g., with political cartoons (Chicago Tribune), silent newsreels (Detroit News Pictorials), or the collected commentary on "the Age" in Section One. What unique insights can be gained by studying single-source collections from a period? What limits do they present? [See collection discussion guide for THE AGE.]
Framing Questions
How are the Twenties immediately familiar to 21st-century observers? In what ways does the decade seem remote and old-fashioned?
Identify and explain four characteristics of the Twenties that most differentiate the decade from the 1910s and the 1930s.
What are benefits and downsides of snapshot views of a historical period?
What research would you conduct to test a hypothesis about the 1920s gained from these snapshot views?
Printing
Only Yesterday selections

10 pp.

Supplemental Sites
---
1
Frederick Lewis Allen,
Only Yesterday: An Informal History of the Nineteen Twenties
(New York: Harper & Brothers, 1931), pp. xiii-xiv.
2
William E. Leuchtenburg,
The Perils of Prosperity: 1914-1932
(Chicago: University of Chicago Press, 1958), p. 277.
3
Jonathan Yardley, "
A History That Stands the Test of Time
,"
The Washington Post
, Nov. 28, 2007.
Images:
– Armistice day celebration in Philadelphia, photograph,
The
[Philadelphia]
Public Ledger
, Nov. 11, 1918 (detail). Courtesy of the National Archives, ARC Identifier 533478.
– Clifford Berryman, "Election Day, 1919," political cartoon,
The Washington Star
, Nov. 4, 1919 (detail). Courtesy of the National Archives, Berryman Political Cartoon Collection, ARC Identifier 1696616.
– Detroit police inspecting equipment found in a clandestine underground brewery, photograph, n.d. (detail). Courtesy of the National Archives, ARC Identifier 541928.
– President and Mrs. Coolidge with members of the Republican Businessmen's Association of New York, White House lawn, late 1924 (detail). Courtesy of the Library of Congress, National Photo Company Collection, LC-USZ62-111399.
– Automobiles in window of the Washington-Cadillac Co., Washington, D.C., photograph, 1927 (detail). Courtesy of the Library of Congress, National Photo Company Collection, LC-USZ62-111329.
– First-prize winner and other contestants of bobbed-hair contest, Coral Gables, Florida, photograph, Feb. 27, 1925 (detail). Reproduced by permission of the State Archives of Florida.
– "Wall Street Lays an Egg,"
Variety
, Oct. 30, 1929, headline and portion of front page. Reproduced by permission of Reed Elsevier Inc.
*PDF file - You will need software on your computer that allows you to read and print Portable Document Format (PDF) files, such as Adobe Acrobat Reader. If you do not have this software, you may
download it FREE
from Adobe's Web site.