Teacher Advisory Council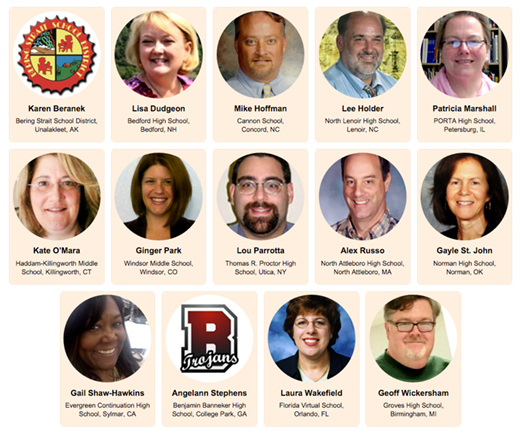 The Teacher Advisory Council members are fourteen highly qualified educators from school districts in twelve states across the country. On average, each advisor brings more than twenty years of classroom experience to their participation on the Council.
Purpose
The principal purpose of the Teacher Advisory Council is to involve educators in promoting, piloting, and evaluating educational programs and resources offered by the National Humanities Center.
Specific functions of the Council include, but are not limited to the following:
Assist with promoting and increasing awareness of educational materials and programs offered by the Center;
Evaluate existing programs and resources such as lessons, webinars, TeacherServe®, and primary source collections;
Pilot new programs and/or materials and evaluate;
Recommend texts and topics for lessons, webinars and other resource outlets; and
Review proposed programs and resource materials for teaching and classroom feasibility.
Council Participation: What's in it for teachers
Affords early access to new lessons and resources from the National Humanities Center;
Compensates members with a modest stipend;
Demonstrates strong commitment to strengthening the teaching profession;
Enables free registration in all National Humanities Center webinars;
Offers opportunities to provide guidance, advocacy, and professional development to all teachers; and
Provides evidence of professional leadership.
Advisory Council members must agree to serve as a documented social media ambassador, sharing news and information about webinars, lessons, and more via Facebook, Twitter, and other online outlets. Council members will also complete at least one of the following activities each calendar year:
Pilot one new program, lesson, or material and give feedback;
Recruit at least one new teacher to participate in and complete all the phases of a webinar (forum, live event, evaluation);
Review a current primary document collection, TeacherServe® essay, webinar or lesson and offer feedback.
Share how at least one lesson was used with students, either in your classroom or the classroom of a colleague;
Share how at least one resource/worksheet (from a lesson or a webinar) was used with students;
Share a video or podcast that was developed for use with a lesson/resource; and
Share a video of you or a colleague teaching with a lesson/resource.
Get Involved
Nominations for the 2016 Teacher Advisory Council are closed. For additional information contact Libby Taylor, Program Coordinator.