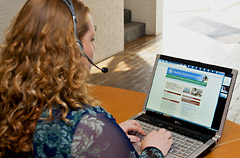 This program is sponsored in part by the Library of Congress Teaching with Primary Sources Eastern Region Program, coordinated by Waynesburg University.
See all America in Class®
online seminars.
Recertification Credit: The National Humanities Center programs are eligible for recertification credit. Each seminar includes ninety minutes of instruction plus approximately two hours of preparation. Because the seminars are conducted online, they may qualify for technology credit in districts that award it. The Center will supply documentation of participation.
Teaching with Primary Sources is a program of the Library of Congress that helps educators get students engaged, excited, and empowered through the use of primary sources. It provides professional development opportunities for educators and guides them in using the digitized primary sources available from the Library's web site in their classrooms, libraries, and museums. The TPS program contributes to the quality of education by deepening content understanding and improving student literacy in our nation's schools.
Upcoming Seminars
[EVENT_ESPRESSO_CATEGORY event_category_id="tps-2013″]