Announcing a Special Program for California Teachers!
Through a partnership with the California Department of Education, the National Humanities Center is pleased to offer California educators free registration in a series of live, professional development webinars for history, literature, and humanities teachers. These interactive programs offer educators:
Increased content knowledge
New teaching resources
Fresh instructional approaches
Webinars are taught by leading scholars and explore historical documents, literary texts, and images to demonstrate and support teaching with primary sources. Webinar materials are free, online, and available on demand.
Sample Webinar: The Causes of the Great Depression
Earn credits from CSU, Chico, the only California institution to offer university credit for NHC courses!

Each National Humanities Center webinar provides three hours of professional development. NHC webinars have been vetted and pre-approved by Trinity County Office of Education as meeting the requirements for university credit. Completion of five NHC webinars will provide fifteen hours/one credit, or a variety of webinars and other programs may be combined to total fifteen hours/one credit. To receive credits from CSU, Chico, follow these easy steps.
Los Angeles Unified School District
CSU, Chico will grant one unit of university credit for completion of five NHC webinars. These credits require a nominal per-credit fee. LAUSD teachers may choose to receive either LAUSD Salary Point Credit or pay $60 to USC, Chico and receive university credit. University credit will transfer if you move to another district. To earn LAUSD salary points, follow these instructions. To receive credit through either CSU, Chico or LAUSD, you must be registered and participate in the live webinar.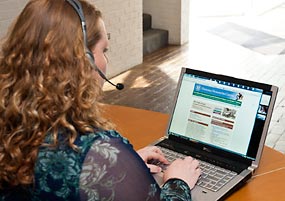 Registration & Webinar Information
To participate in National Humanities Center webinars, register online. Los Angeles Unified District (LAUSD) teachers use promotional code LAUSD and other eligible California teachers use promotional code CSUC. Prior to a webinar, registered teachers will receive a link to a web page which includes:
Instructions to access the online classroom
Assigned readings
Discussion forum
After the webinar, the audio recording and presentation are available for listening, viewing, and downloading. However, to receive credit through either CSU, Chico or LAUSD, you must be registered and participate in the live webinar.
If you have questions or would like additional information, please contact Libby Taylor at etaylor@nationalhumanitiescenter.org or at (919) 406-0122.